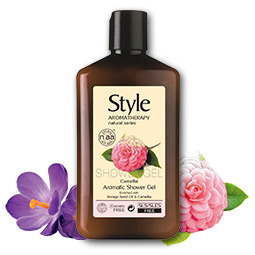 Shower Gel Camllia
400ml
A pampering, luxurious shower gel featuring unique Style Aromatherapy Natural Ageing technology "NAA", and fortified with natural Borage Seed Oil and Camellia extract that work in harmony to stimulate the skin and leave it cleansed velvety, soft, with a long-lasting subtle fragrance.
Camellia Oil exhibits exceptional antioxidant activity. Camellia seeds contain between 40-50% of nutritive oil that is low in saturated fat and also a rich source of omega 3,6 and 9 fatty acids plus Vitamin E and polyphenols.
The user-friendly formulation does not contain S.L.S/S.L.E.S and Parabens. Packing is recyclable.
You also might like this: