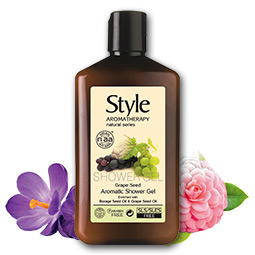 Shower Gel Grape Seed
400ml
A pampering, luxurious shower gel featuring unique Style Aromatherapy Natural Ageing technology "NAA", and fortified with natural Borage Seed Oil and Grape Seed Oil that work in harmony to stimulate the skin and leave it cleansed velvety, soft, with a long-lasting subtle fragrance.
Grape Seed oil is a preferred cosmetic ingredient for damage and stressed tissues, possessing regenerative and restructuring qualities which allow a better control of skin moisturization.
The user-friendly formulation does not contain S.L.S/S.L.E.S and Parabens. Packing is recyclable.
You also might like this: